10 most dangerous airports in the world that make nervous even experienced pilots! 6/12/2016 • Muhammad Rasheed
You won't believe, but all these airports do exist in various places on Earth. Even those who aren't afraid of flights and planes will be frightened when they see these dangerous runways!
---
#1 Gibraltar International Airport, United Kingdom.
This airport belongs to the British Ministry of defense and is used for military purposes. However, from time to time the airport serves civilian flights to and from Great Britain and Spain.
If you look at the picture above attentively, you will notice the main peculiarity of the airport - its runway crosses a motorway! When a plane is landing or taking off, the traffic is stopped with the help of special barriers.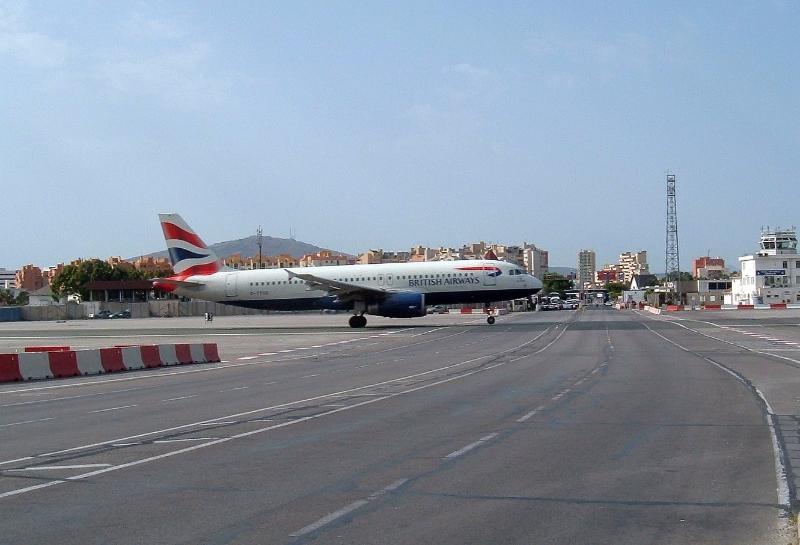 #2 Tenzing–Hillary Airport, Nepal
This airport also known as Lukla Airport, is located in the eastern part of this Asian country at the height of 2, 860 meters above the sea level. It was named after Sherpa Tenzing Norgay and Sir Edmund Hillary who were the first to get to the summit of Everest. They also contributed a lot to the construction of this airport.
The airport is considered by many as the most dangerous one on the planet: its runway is only 527 meters (1,729 ft) long with 12% gradient. Moreover, the runway ends up with a sheer drop on one side and a mountain on another. Planes can land and take off here only in good weather.
#3 Courchevel Altiport, France
This airport serves the famous French ski resort located in the Alps. The runway is extremely short and is equal to 537 meters (1,762 ft) with 18.6% gradient. Only small airplanes and helicopters can land here. Besides, the runways doesn't have any lightning aids, so landing in bad weather is too dangerous and even impossible.
#4 Madeira Airport, Portugal
This Portuguese island is famous not only for its beautiful sights and beaches, but for its unusual airport as well.
Interestingly, till 2000 only a few pilots agreed to land here, since they had to perform difficult and tricky manoeuvres. In 2000, the airport was renovated and now the most part of the runway is located on a platform elevated above the sea with the help of 180 columns each being about 70 meters high (230 ft).
#5 Princes Juliana Airport, the island of Saint Martin
Thousands of people come to Maho Beach, situated on the Dutch side of the Caribbean island of Saint Martin, to see airlines flying very low and to rattle one's nerves. Spotters gather on the beach to view various aircraft in their flight path just outside the end of the runway. Usually, planes fly just 10 meters above people's heads.
In spite of warning signs that jet blast from an airline may cause injury and even death to people, brave spotters and tourists keep coming to the place.
#6 Barra Airport, Isle of Barra, Scotland
The airport is situated on the shore of a wide bay called Traigh Mhòr. The remarkable thing about this place is that all three runways are located right on the sand beach. Of course, only light airplanes can land and take off there. The only thing that can disturb the work of the airport is the tide.
#7 Agatti Aerodrome, Lakshadweep Islands, India
Lakshadweep Islands are situated in the Laccadive Sea 400 km away from the coast of India. The one and only airport of the islands was built in 1988 on Agatti Island. Its asphalt runway is located on a long coral reef surrounded by the sea waters. When an airplane is landing, it seems that it is going to dive into the sea. Very nerve-rattling!
#8 Juancho E. Yrausquin Airport, island of Saba
The airport on the Dutch Caribbean island has the shortest commercial runway on the Earth – 400 meters (1,312 ft). More than that, it is surrounded by the sea, cliffs, and sheer drops. Another problem is strong winds that blow here all the year round. That's why only specially-trained pilots can land here.
#9 Kansai International Airport, Osaka, Japan
This airport is located on a specially constructed artificial island amid Osaka bay. Both the island and the airport were designed by world-renowned architect Renzo Piano. The island is 4 km long and 1 km wide. The airport is considered perilous due to frequent hurricanes and earthquakes in the area. However, it managed to survive a 7 Richter scale earthquake in 1995 and a terrible typhoon in 1998 when the wind speed reached 200 km/h.
#10 Gisborne Airport, New Zealand
This is an airport on the Eastern coast of the North Island of New Zealand. Its only runway crosses an active railroad which connects the towns of Gisborne and Palmerston North. Big airliners do not land here, because population of the town is only 45,200 people. Interestingly, locals aren't very fond of flying - they prefer trains. That is why trains are more of a priority than planes and the latter should wait for landing or taking off until a train passes.
Learn more with QuizzClub:
Have you ever been to one of these airports? Share your experience in the comments!
Your opinion matters
Interesting Facts