10 wonderful art projects that will amaze you!
Words are not enough to describe the beauty of the human fantasy, but we shall try to do it, as we really want you to see how amazing the power of a creative brain is. Explore the world with us!
---
1. The Ocean of Plastic Balls, USA
Every year The National Building Museum (Washington DC) presents an outstanding destinations for its visitors. This year people were able to see an interactive architectural installation aka the BEACH. The installation is contained within an enclosure. It is built out of white construction materials. Visitors can sit under the white umbrellas and even "swim" in the unusual ocean of white plastic balls. It looks surrealistic and funny at the same time!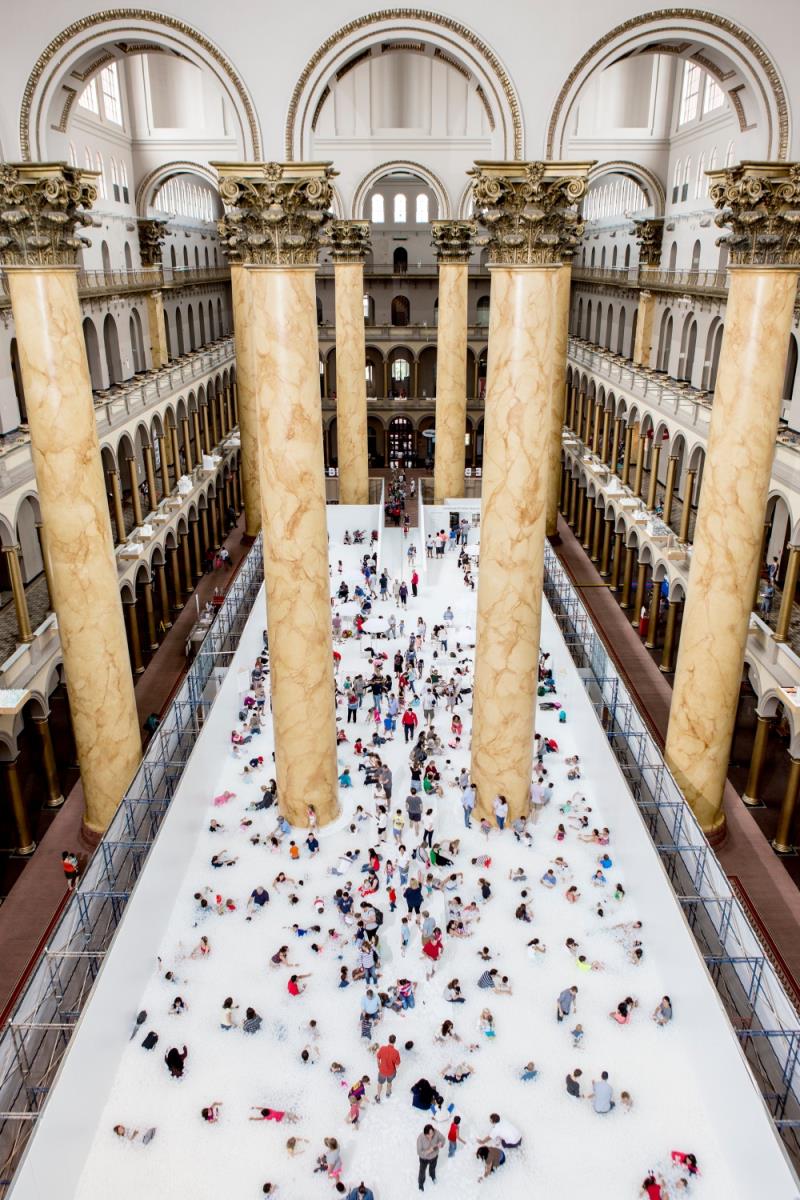 2. Kendra Haste's Wire Animals, UK
Kendra is a young British artists who works with an unusual material. She makes wonderful wire sculptures of animals! Kendra works with layers of painted galvanized wire atop steel armature in order to create faithful reproductions of large and small creatures (both for public installations and private collections). She is truly capable of creating "the sense of movement and life, of contour and volume, the contrasts of weight and lightness, of solidity and transparency—values that I find in my natural subjects."

3. Floating Flower Garden, Japan
The breathtaking floating flower garden is filled with living flowers that float up and down to recreate the illusion of being in the space. When you get close to the flower-filled space, the flowers rise upwards all at once, thus creating a hemispherical space with the viewer at its center. So, the whole room is filled with flowers (over 2,300 floating flowers are blooming in the space), but there is always a hemispherical space around you, so you are free to move wherever you want. Sounds like magic, doesn't it?
4. Driftwood Sculptures
James Doran-Webb makes majestic life-sized sculptures that lift your mind the moment you see them. In his artworks he expresses animal's wildness and beauty. Each sculpture takes up to 3,000 hours to make! Hopefully, the artist has the help of an assisting team of craftsmen.
5. Marigold Paint Tube, France
Unfortunately, nobody knows who created this funny installation. Anyway, it looks lovely!
6. Light Paintings, UK
A Scottish artist Darren Pearson is skilled enough to draw with light! He creates amazing sparkling photos and videos filled with glowing illustrations. He became interested in light painting only a couple years ago and today he is already an experienced artist. His creations are teetering between fantasy and reality. Moreover, the artist can't see what he's drawing until he looks at the screen on the back of the camera! Such a skill!
7. The Dragon Hedge, UK
The huge green dragon was created by an ordinary elderly gentleman John Brooker. Impressive, isn't it?
8. Love Milov's, Ukraine
A Ukrainian artist, Alexandr Milov created an incredible installation illustrating how lonely people can be. He described love as a child locked in the body of an adult. So let love light your way, as it's the only way out of stupid conflicts between men and women!
9. The Key in the Hand, Italy
The installation was made of more than 50 000 keys! The creator, Chinaru Shiota, says that the keys have been picked up from around the world to illustrate people's lives: we are all different, yet bound.
10. Flower Parade, Holland
Well, everybody heard about the famous flower parades. That's what you must see at least once in your life!

Which of the installations do you like most? Tell us in the comments below.
You are welcome to share the fact with your friends!
Your opinion matters
Interesting Facts