The unique "diving" bridge between Sweden and Denmark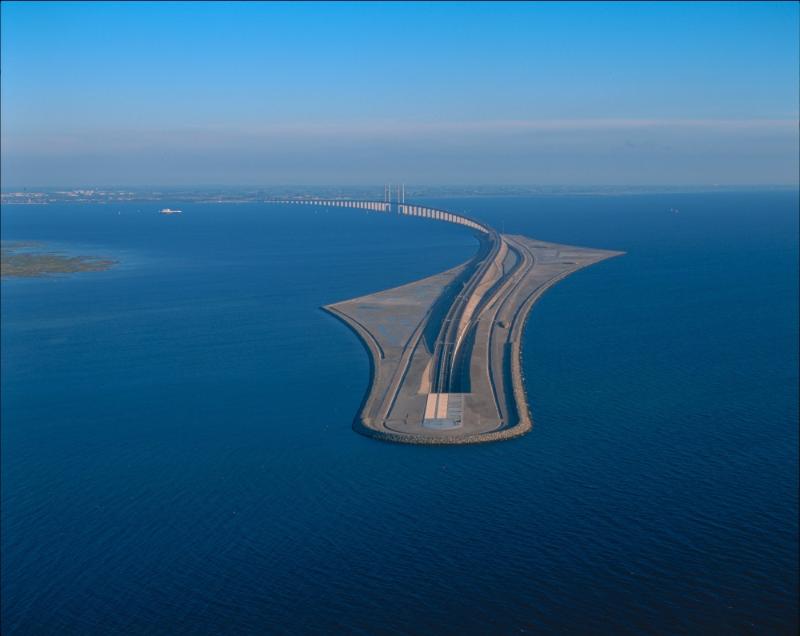 This engineering marvel connects the two countries and is the longest European viaduct that combines a railroad and a highway. It was open to the public in 2000 and looks especially impressive from above.
---
If you are good at geography you remember that these two European countries are separated by a narrow strip of water – the strait Øresund (more commonly known in English as the Sound). The strait looks like a strip only on the map – in reality it is not so narrow and has the width of 10 mi or 16 km. Before the bridge had been built people had to travel by ferry in order to reach the bank of the neighboring country, but it took a lot of time. That's why authorities decided to construct a bridge that would connect the countries.
The bridge is really one of a kind. It is a gigantic two-level construction: the lower level is aimed for trains and the upper one – for motor vehicle transport. The viaduct ends up with an artificial island as if diving into the sea. Actually, here an underwater tunnel starts.
Such extraordinary type of construction was chosen on purpose: it doesn't create any obstacles for landing airlines (there is an airport nearby) and allows large ships to pass unimpeded.
Your opinion matters
Interesting Facts