You will be amazed! 7 largest and delightfully weird insects!
Did you know that the largest insects that ever lived on our planet were bugs with wingspans of nearly 2 feet? Don't worry, though, as they became extinct a long time ago. Today, insects can't grow that large. Nevertheless, some of them are large enough for you to be astonished or terrified!
---
1. Titan Beetle, South America
The huge bug is about 7 inches in length but, luckily, it is not considered dangerous to humans. The interesting fact is that nobody has ever seen the bug's grubs!
2. Hercules Beetle, South America
This bug trails the Titan Beetle in the race for being called the largest insect. Its length is about 6 inches and they lift up to 850 times their own weight, using their horns. Female species do not have horns.
3. The Giant Malaysian Katydid, Malaysia
The average body length of a species is about 6 inches. Some people are afraid of these long-legged insects but the katydids are known as very gentle and harmless animals. Moreover, they are much more scared of you than you are of them.
4. The Goliath beetle, Ivory coast
The beautiful insect is named after the biblical giant Goliath. The bugs are found in many tropical forests of Africa. The average length of male's body is about 3 inches. The species is considered one of the heaviest bugs on our planet.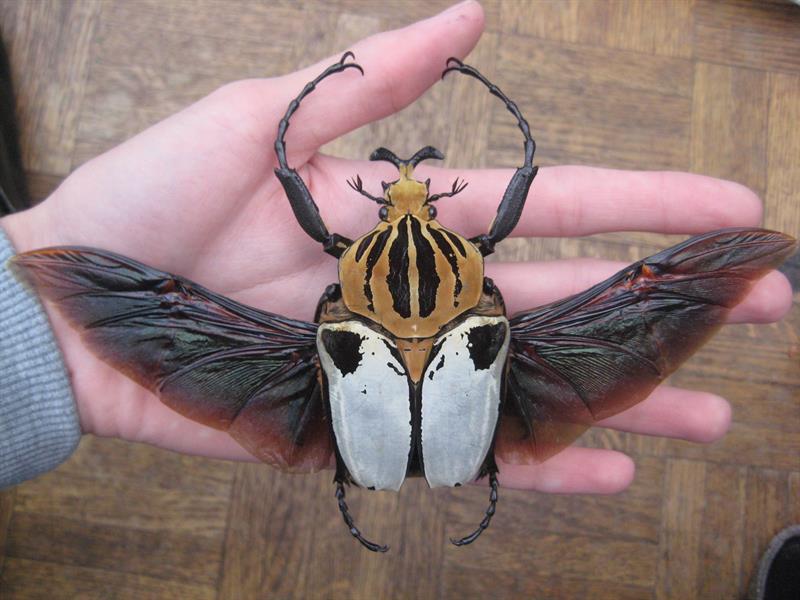 5. Giant Burrowing Cockroach, Australia
The bug is known as the heaviest cockroach while its body length is "only" about 3 inches. Besides, the cockroaches play a vital role in the local ecosystems by recycling leaves.
6. Chan's Megastick, Malaysia
The insect is said to be the world's largest in length (2 feet). Very little is known about the biology of the species as they are very hard to find in the tropical forests. Few people are able to distinguish between the insect and a stick!
7. Queen Alexandria's Birdwing, Papua New Guinea
The butterfly is the largest in the world. The color of its enormous wings warn predators of the species' poisonous nature. Its wingspan is about 12 inches.
If you like the fact, please SHARE it with your friends!
Your opinion matters
Interesting Facts