Can You Actually See Colors?
Click on the shade this color is closets to.
Your opinion matters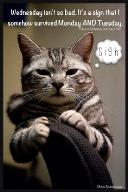 I got Red Personality, True Leader.
The master of shadows! Blue person.

This is closets to being a moron.
Sandor Muller
The master of shadows
Dianne Sneed
I just pushed any button at will. No thought process was involved. Master of shadows blue. What a pile of bunk.
Judith Adkins
Blue person, high color IQ. The master of shadows !
But I'm a red person actually!!!
The very best most wonderful ever.