What battle flag was carried in 1862 by Confederate troops fighting in the Trans-Mississippi and Western theaters of the Civil War?
When General Earl Van Dorn was assigned a Corps in the Army of the West in the Trans-Mississippi theater, he personally designed a flag (Van Dorn battle flag) for his command. This battle flag first saw use after the fall of Vicksburg in the west.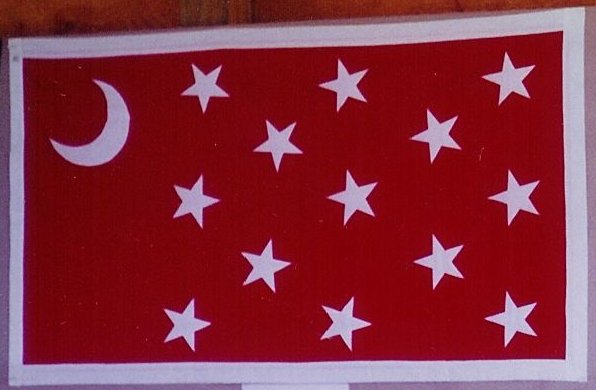 When General Van Dorn became Commander of the Army of the West in 1862 his flag went with him. Arriving too late to fight at Shiloh, Van Dorn's troops began adopting his flag in June, with the first issues (with a slightly different star pattern and fringed edges) going to the Missouri Brigade. In August, the rest of the army received the flag, which first saw use at Iuka and Corinth where some several examples were captured. The crescent symbol on the flag was taken from the Missouri State Coat of Arms and was used to inspire Missouri troops as they crossed east of the Mississippi River. This was not the only flag used; other notable battle flags were displayed.
More Info: en.wikipedia.org