Which fish is least related to the other three?
This question is pretty hard, as it deals with the genus of the fish mentioned above. Although it is called a trout, rainbow trout (Oncorhynchus mykiss) belong to the genus Oncorhynchus, as do Chinook salmon (Oncorhynchus tshawytscha) and Coho salmon (Oncorhynchus kisutch). Atlantic salmon (Salmo salar) are in the same family (Salmonidae), but belong to a different genus (Salmo).
More Info: en.wikipedia.org I'm too used to finding "obvious" answers and so I chose the only one not called a salmon. Shame on me for assuming!
Trout felt too obvious, and Atlantic could also be distinguishing. Missed it, and regret not using the Double Chance.
Interesting how many guessed the correct answer based on bad reasons. :)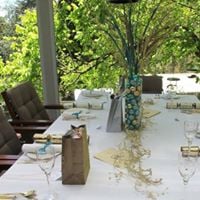 I knew 3 were found on the west coast, so I picked the one I wasn't sure of and was right. Thanks.
If yo uonly looked at the author of the question, you would know that it would obviously not be the obvious answer. Bernd Rittersporn posts some excellent questions but he's never going to "give you"one. Tough question, Bernd. But it separated out the deep thinkers. P.S.: I got it wrong. But I certainly didn't pick trout.
Not fair, they're all in the same family, one in different genus.
Bernd Rittersporn I've caught a couple of steelies in the Russian River. They're winter fish. Black bass in the summer.
At least I am not in the minority with this. It seems like many others also considered the trout to be the odd fish out. So ok ... now I know more than I did this morning.
This one required a phd in ichthyology.
My guess -- which turned out to be correct -- was "Atlantic Salmon" sounds like an ocean fish, whereas the others sound more like freshwater. Don't know if that's true or not.
<div class="text-center" style="margin: 0 25px 5px"> <img src="https://cdn.quizzclub.com/social/was-it-interesting.png" alt="Was it interesting?"> </div>