Amazing steampunk art: a new life of recycled materials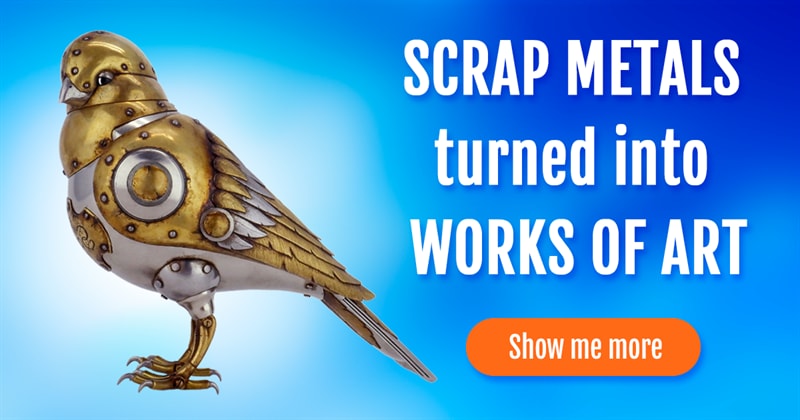 A talented artist from Russia Igor Verny has a fantastic hobby. He creates amazing animals out of recycled materials. Take a look at these perfect works of art.
---
Hobby helps to reduce stress and develop creative abilities. It is the best way to express yourself and get positive emotions. Today more and more people surprise us with very unusual hobbies. For example, one can take photos of stunning chickens you've probably never seen or create realistic toys made of wool.
Igor Verny is famous for his awesome sculptures made out of tiny metal details taken from car parts, tin cans, clock mechanisms. Sometimes he finds different parts at the flea markets. Igor sees beauty where others can't find it. Through his artworks, he shares this beauty with us.
---

Did you like these amazing sculptures? Do you have a hobby? Share in comments!
---
You can find more Igor's artworks on his Instagram | Facebook
Don't forget about QuizzClub's trivia questions.
Share this article with everyone who likes art!
Interesting Facts
In today's post, we would be sharing images that prove the connection between humans and animals.
---
---
How did you like these images? Leave your feedback in the comment section!
---
More on QuizzClub:
These pictures of unusual objects people stumbled upon and had a chance to take a picture of will absolutely blow your mind!
These ten photos and videos we would be sharing are meant to impress you.
Here are five cool facts about these amazing creatures!
This talented artist surely knows how to give new life to old black and white pictures – his works will blow your mind away!