11 most remarkable flight attendants' outfits
Stewardesses represents their airline, that's why their outfit is being paid a special attention to. From this article you will learn about airlines, which dress their flight attendants in the most recognizable costumes.
---
Here are 11 examples of how different an approach to the uniform of a flight hostess can be. "Haute couture" dresses and Ethnic motives, new designs of folk costumes and bright prints - everything to make you remember this airline and never confuse it with any other.
#1 Hainan Airlines, China
This company accredited the development of their uniform to designer Laurence Xu and succeeded. The collection was shown at Paris Fashion Week, autumn/winter 2017.
#2 Etihad Airways,UAE
Independent Italian designer Ettore Bilotta created uniform for the second biggest airline in UAE. This line was intended to combine high fashion of Paris and Rome of the 60s with modern looks of New York and London. It seems, the task was 100% completed.
#3 Emirates Airlines, UAE
Emirates Airlines are very serious about the look of its employees. So there is no wonder their uniform is one of the most recognizable. The stewardesses are even taught to wear the headdress and tie the scarf in a correct way.
#4 Loganair, Great Britain
Scottish airline Loganair co-opted the famous plaid to make the company recognizable in any airport of the world.
#5 Singapore Airlines, Singapore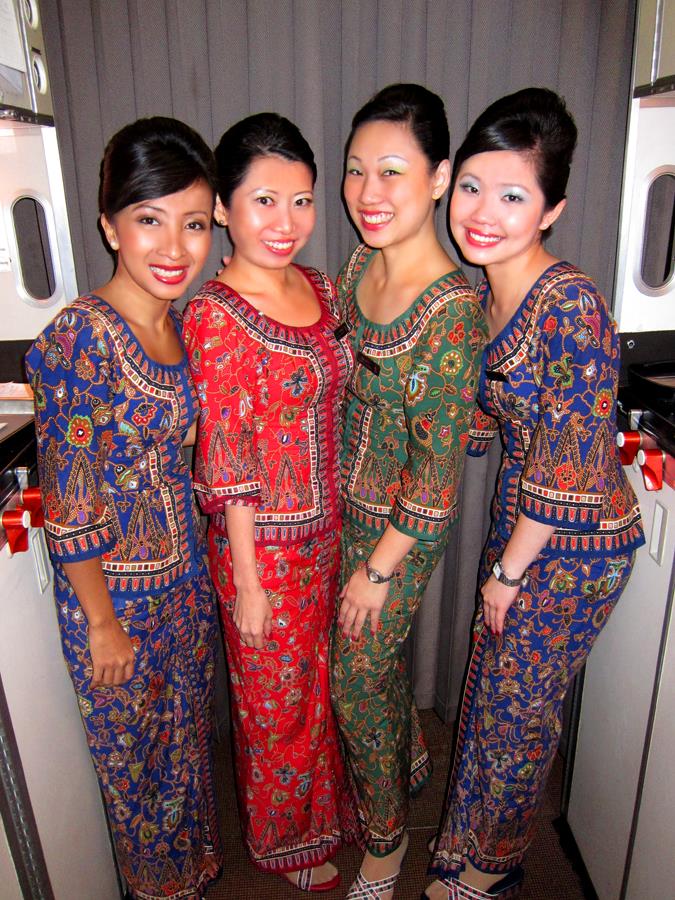 French couturier Pierre Balmain created uniform for Singapore Airlines back in 1968. It is produced in 4 colors, which represent a qualification of a stewardess. For example, red is the color of a chief stewardess.
#6 La Compagnie, France
We are used to see flight attendants wearing dresses or skirts, but La Compagnie dressed its workers in practical shirts. The girls can also choose a pencil skirt, but it seems no one wants to change such a hallmark for a common piece of clothing.
#7 Garuda Indonesia, Indonesia
Stewardesses of Garuda Indonesia wear redefined sarong, reminding of the traditional dress of Southeast Asia. Noteworthy, this airline crew won the first title at Skytrax World Airline Awards - top award among airlines, in 2017.
#8 Lufthansa, Germany
Usually the uniform of Lufthansa flight attendants is pretty standard, but not while Oktoberfest. On the occasion of this famous festival crews wear traditional-looking costumes.
#9 EVA Air, Taiwan
In 2005 EVA Air company together with Sanrio introduced several airliners, decorated in Hello Kitty style. Tickets, pictures on the airplanes, pillows, food boxes - everything was in the same style. And so was the stewardesses' uniform.
#10 Royal Brunei Airlines, Brunei
This airline is completely owned by the government of Brunei. Perhaps, this is the reason why flight attendants' uniform is so close to traditional costume.
#11 Air New Zealand, New Zealand
A dress with a big bright print is an unusual choice for a stewardess, but it doesn't bother Air New Zealand. At least, they managed to make the uniform recognizable.
---
To your opinion, which company managed to find the golden mean in the choice of uniform for their flight attendants? Share your thoughts in the comments!
---
More on QuizzClub.com:

---
Share this article and find out if your friends have seen any of these outfits!
#Culture #Society #photography
Interesting Facts