This innocent-looking river turned out to be the most dangerous stretch of water on Earth
Thing are not always what they seem to be. This narrow river in Yorkshire, UK, appears to be just a lovely and innocent place to have a pleasant riverside walk, but the power hidden in its stream makes it the deadliest stretch of water on the planet with a 100% fatality rate... Can you believe this?
---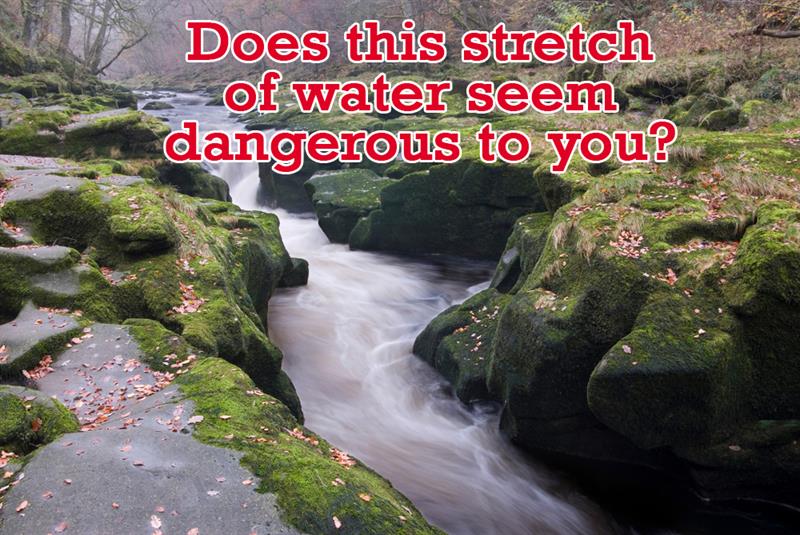 The narrowest point of the River Wharfe in Yorkshire is in the picture. Does it seem dangerous to you? If I were to cross the river at this place I would definitely jump across without thinking. This stretch of water called the Strid doesn't look deep at all, does it? As it turns out, the Strid can easily pulverize a person in a short time...
Fast currents of the river combined with sharp underwater rocks create a real death trap hidden beneath the calm surface
The turbulence created by the currents will render anyone

unconscious

just in a few seconds
The bodies of the people drowned in the Strid were found only several hours after the accidents, as they were dragged by the powerful waters
The Strid has left a lot of people dead, but the numbers are not what makes it the deadliest stretch of water on the planet. It looks totally innocent and nonthreatening, tourists and wanderers are totally unaware of its killing power - that's why it is the most dangerous.
In this comprehensive video a British fact seeker, Tom Scott, tells us more about the place, its history and the reasons for calling the Strid the most dangerous stretch of water in the world. Just take a look and see how innocent the river really looks:
---
Have you ever heard about such places before? Does the river in the video seem dangerous to you? Do you think the Strid can really be considered the deadliest stretch of water?
---
We are waiting for your comments!
---
More about nature on QuizzClub.com:
SHARE this article with your friends for them to find out about this dangerous place!
Interesting Facts