What Kind of Significant Other Are You?
Let's talk about love. And you.
Your opinion matters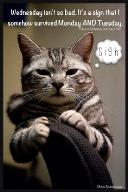 Hopelessly devoted, I am not!

Silliest questionnaire I've answered yet. Several answers didn't have a response that fit my personality, and I had to choose between 2 I wouldnt have chosen normally. Perfect planner I most definitely am not. More Laisez-faire...
Perfectionist planner I see.
casual dater I wish im 85
Hopelessly devoted... yes i m....
Super independent....There were not enough choices for me to answer accurately. I am independent, but we have been married FOREVER, we do not argue once a month. The test should have been for single 20-30 somethings or expanded for married couples!
Nyree Thomas
Dead wrong...
A rolling stone, wherever I lay my hat is my home.

Hopelessly devoted, which I am, but some of the questions didn't apply. My S/O's parents are no longer alive, nor is his grandmother, and we never argue.
Deby Hackney
Hopelessly devoted - been married almost 35 years, I would think so!!